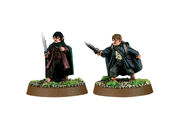 Frodo is the young nephew of Bilbo Baggins and the current bearer of the Ring. It is his duty to reach Mordor and destroy the Ring once and for all.
Frodo is in the following packs:
      F   S D A W C M W FT 

Frodo 3/3+ 2 3 1 2 6 2 3 3
Wargear: Sturdy blade, The One Ring Special Rules: The Ring
WAR OF THE RING
Edit
UNKNOWN PLEASE POST IF YOU KNOW THEM!!!