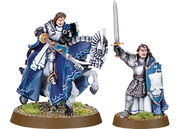 Prince Imrahil is the Lord of Dol Amroth, the fair port city on the bay of Belfalas. In the final days of the War of the Ring he fully backs Aragorn and leads his knights into battle and glory!
               F  S D A W C M W FT 

Prince Imrahil 6/- 4 7 3 3 6 3 3 3
Wargear: Heavy Armor, sword and shield Special Rules: The Lineage of Numenor
WAR OF THE RING
Edit
      Race Type M  F  S D A R C Mt 

Imrahil Man Hero - 7/- - - - 3 6 3
Epic Actions: Epic Challenge, Epic Strike, Epic Charge. Special Rules: Inspiring Leader (Men).