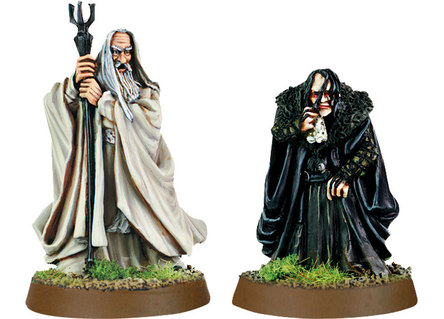 Saruman the White is the leader of the Order of Wizards and the most learned in the ways of the Enemy. Now he would dare rise and take even Sauron's crown, but the truth is that his soul is already in thrall to the evil lord. Saruman is also feautured in the pack:
Saruman(Orthanc)
and
The Scouring of the Shire
.
        F  S D A W C M W FT 

Saruman 5/- 4 5 1 3 7 3 6 3
Magical Powers: Terrifying Aura; Sorcerous Blast; Immobilise; Command Wargear: Staff and dagger Special Rules: Staff of Power; Voice of Command; Palantir
WAR OF THE RING
Edit
         Race Type M  F  S D A R C Mt 

Saruman Spirit Hero - 4/- - - - 3 6 3
Epic Actions: Epic Channelling, Epic Challenge, Epic Ruination. Special Rules: Inspiring Leader (Master), Overlord, Touched by Destiny, Voice of Saruman.