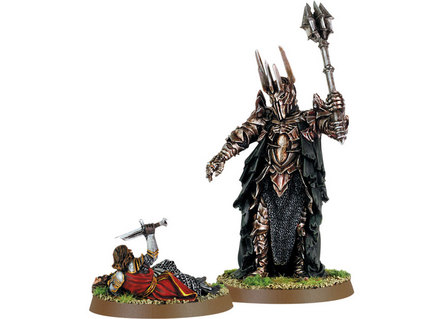 The Dark Lord Sauron is driven by a consuming desire to dominate all of Middle-earth. From his stronghold in Mordor Sauron controls many seravants and all who fight for Evil, bow to his will. Sauron is the most powerful Hero in The Lord of The Ring Strategy Battle Game, to face him in combat is to face death.
This box set contains one multi-part metal Sauron, Lord of the Ring and one model of Elendil and Isildur lying prone.
Sauron is also featured in the set: Sauron the Necromancer.
Statistics
Edit
(note: These stats are for The dark lord sauron, not Sauron the Necromancer.)
SBG(STRATEGY BATTLE GAME)
Edit
                          F S D A W C M W FT 

Sauron, Lord of the Ring 9/- 8 10 3 5 7 3 6 *
Magical Powers: Transfix; Compel; Drain Courage; Sap Will; Chill Soul
Wargear: Mace and heavy armour
Special Rules: Terror; Ancient Evil; Unstoppable!; The Lord of the Rings
WAR OF THE RING
Edit
        Race Type    M F   S D A R C Mt 

Sauron Spirit Monster 8 6/- 6 9 6 2 6 3
Epic Actions: Epic Channelling, Epic Ruination, Epic Strike, Epic Strength. Special Rules: Inspiring Leader (Master), Terror, Touched by Destiny, Very Hard to Kill!, Mighty Hero.