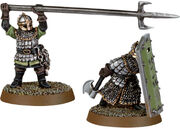 The Dwarves are an old race, hardy as the rock from which they hew their mountain halls. From Iron and gold, Dwarves fashion weapons and armour that are the envy of all. Few evils can stand against a Dwarf hold roused to war.
COMMON DWARF HEROES
Edit
DWARF ARMY BUILDERS
Edit
RECOMENDED STARTING POINTS FOR DWARVES
Edit
1. Purchase Balin's Guard A great hero, and great troops. 2. Purchase a couple Vault Warden Teams, great defensive units, capable of defending a huge space by themselves. 3. purchase the Kahazad-Dum Sourcebook, with great tips, scenarios, and more!