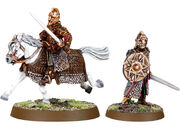 Though now old and apparently frail, Theoden is still a great warrior at heart. He is the leader of the brave race of horsemen and doughty warriors that stands between the Tower of Orthanc and Gondor. Theoden is included in the following packs:
        F  S D A W C M W FT 

Theoden 5/- 4 4 2 2 5 2 0 2
Wargear: Sword Special Rules: Expert Rider
WAR OF THE RING
Edit
      Race Type M  F  S D A R C Mt 

Théoden Man Hero - 5/- - - - 2 6 3
Epic Actions: Epic Challenge, Epic Sacrifice, Epic Charge. Special Rules: Inspiring Leader (Men), Touched by Destiny, Heroic Example, King of the Rohirrim.